State Shoots Support Team USA
Six additional clubs have agreed to support Team USA by offering a 50/50 Lewis Class Option at the State Championship shoots they are hosting, bringing the total to 17 state events that will help fund the team's expenses this year.
Team USA is the highest honor earned by NSCA members, allowing the top competitors to represent our country and sport in international competition. Qualification for the team is based solely on individual performance at designated Team USA selection shoots. Five teams are selected within the disciplines of Sporting Clays and FITASC. The teams are: Open, Lady, Junior, Veteran, and Super Veteran. For Sporting, five members are selected to the Open team and three to each concurrent. For FITASC, four members are selected to the Open team and three to each concurrent. One alternate is named for each team, for 43 total members.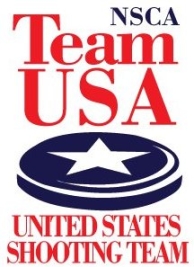 As you might well imagine, it is often impossible to field the team with our top shooters primarily because they simply cannot afford to travel overseas. When you factor in entry fees, airfare, hotel, car rental, food, practice, and ammunition, it costs approximately $4,000 per team member per year, or approximately $175,000 annually.
Team USA reached out to clubs hosting 2012 NSCA State Championship Sporting Clays shoots and asked them to offer a Team USA 50/50 Lewis Class Option. The option would be $20, split $10 to Team USA and $10 to the Lewis Class Purse. This is completely optional to the shooter and is no cost to the club.
With 45 clubs hosting state shoots this year, if we averaged $250 from each shoot, that would fund three team members!
To date, 17 clubs have agreed to offer the 50/50 Lewis Class Option.
Please show your support to these clubs by attending their shoots and to Team USA by playing the Team USA 50/50 Lewis Class Option.
Click on the state to register today.
| | | |
| --- | --- | --- |
| State | Host Club | Dates |
| Arizona | Ben Avery Clay Target Center | March 15-18, 2012 |
| Florida | Quail Creek Plantation | April 20-22, 2012 |
| Utah | Purgatory Clay Sports | April 26-29, 2012 |
| Arkansas | Pajaro Gun Club | May 25-27, 2012 |
| Georgia | Forest City Gun Club | May 31 – June 2, 2012 |
| Oklahoma | Quail Ridge | May 31 – June 3, 2012 |
| California | Raahauge's Shooting Enterprises | June 7-10, 2012 |
| Texas | San Angelo Claybird Association | June 7-10, 2012 |
| New Jersey | Cedar Creek Sporting Clays | June 9-10, 2012 |
| Kansas | Claythorne Lodge | June 21-24, 2012 |
| Illinois | Northbrook Sports Club | June 22-24, 2012 |
| Washington | Sumner Sportsmen's Association | June 28 – July 1, 2012 |
| Ohio | Cardinal Shooting Center | August 2-5, 2012 |
| New York | Ten Mile River Preserve | August 3-5, 2012 |
| *Connecticut | Fairfield Fish & Game | August 24-26, 2012 |
| *Kentucky | Blue Grass Skeet & Sporting Clays | August 24-26, 2012 |
* Registration Not Yet Open
Updated May 21, 2012