Pan American to Include Team Awards
When the medals are awarded at the inaugural Pan American Sporting Clays Championship on April 29, national teams will be recognized, but in a new way. Instead of countries sending "official" teams to the tournament, the three top-performing shooters from each country will constitute the team in Open and concurrent categories.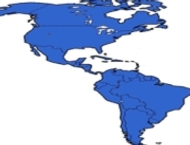 There will be no entry fee for national teams, and the teams will be designated for awards only. Concurrents will include Lady, Junior, Veteran, and Super Veteran. When all the scores are in, for Open and each category of concurrent, the top three shooters will be considered the national team. Then, the best composite team scores will be awarded national team honors.
The Pan American Sporting Clays Championship is open to all shooters from North, Central, and South America. The inaugural event will be held at the National Shooting Complex in San Antonio, April 27-29. Future events will alternate years between the NSC and Central/South American locations. The National Shooting Complex will be the venue in even years.
You can access more information and registration links on the Pan American Sporting Clays Championship web page.