Shooting Stars Airing on Velocity Channel
NSCA and shotgunning are getting high-profile attention in the new series Shooting Stars, airing on Discovery's Velocity channel.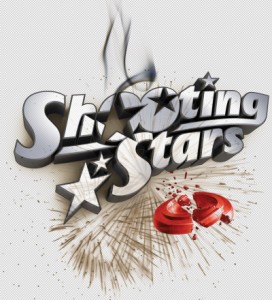 The fast-paced competition event series features three of the world's best-known exhibition shooters paired with celebrity team members as they face captivating target shooting challenges. Each of the six, one-hour episodes celebrates a salute to service as the winning teams raise money for their charities supporting military, police, fire, and cancer charities. Want to see a preview of the action?
The show premiered last week, but if you missed it, you still have a chance to catch the first episode. Shooting Stars "Salute to Police" airs again this Saturday, January 14, at 11:00 a.m. (ET/PT). Future episodes each air in four different time slots. You can see the full schedule here.
One of the featured exhibition shooters is Scott Robertson, NSCA master class shooter and Executive Council member. He is paired with NBA great Karl Malone, and the series is shot at Robertson's Elm Fork Shooting Sports in Dallas, Texas. NSCA Director Robert Crow, National Shooting Complex Facilities Manager Pete Masch, and NSCA Advisory Council member John Commerford are seen on the show as officials for the competition.
Others on the show are exhibition shooter Tom Knapp, teamed with actor Cole Hauser, and shotgunner Tim Bradley, paired with actor Gerald McRaney. Serving as event hosts are Lisa Guerrero (ABC's Monday Night Football, Inside Edition), and Sarah Sanford (former ESPN analyst and competitive shooter), and Doug Painter, (past president of the National Shooting Sports Foundation).
Velocity is a new network from Discovery Communications, billing itself as an "upscale male lifestyle network, featuring the best of the automotive, sports, adventure and travel genres." To find Velocity in your viewing area, visit the network's website and see the Channel Finder on the right.
Shooting Stars is produced by Denver-based Orion Entertainment, producer of numerous outdoor and shooting sports TV series.